A five-day primer in system safety engineering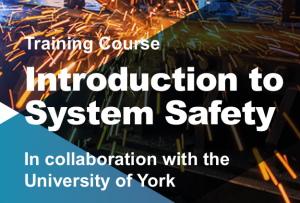 The Introduction to System Safety course is a five-day primer in system safety engineering. The course contains a mixture of lectures, discussions and small group exercises, supported by international examples. Whilst the course touches on broader issues in theorizing risk and managing safety within organisations, its main focus is to equip safety practitioners with the practical understanding necessary to engage with safety activities.
The course is organized in collaboration with the University of York and is based on material of their MSc of Science in Safety Critical Systems Engineering program. The course is structured according to the engineering lifecycle of a service or physical system, and covers:
Concepts and terminology for safety;
Overview of the engineering lifecycle from a safety perspective, including the role and intent of key safety activities;
Hazard identification and setting of safety requirements;
Techniques for safety analysis to support design, including:

Failure Modes and Effects Analysis (FMEA);
Functional Failure Analysis (FFA);
Hazard and Operability Studies (HAZOP);
Fault Tree Analysis (FTA).
Safety cases, including notations for recording arguments and evidence;
Specific issues in safety analysis, including, Human Factors, Software and Data Safety.
Download the flyer here.
For more information and to register, click here.