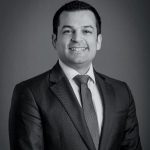 Arash Nateghi is an Early Stage Researcher for MSCA ETN- PETER Project in the Department of Institute for Fundamentals of Electrical Engineering and Measurement Technology. He carry out research on Statistical Electromagnetic Risk Analysis of Large and Complex Systems and will provide the experimental verification (appropriate measurement procedures and model validation which takes place at Wehrwissenschaftliches Insitut für Schutztechnologien (WIS) ) for the theoretical description developed by ESR1. The objective is to develop statistical EMI-aware risk-assessment methodologies that combine both technical and non-technical aspects.
He is graduated in electrical and power engineering MEng from University of Bath, UK on 2016. He has previously worked for the UK electrisity transmission system operator (SO), National Grid, as a SCADA and data intefrerences engineer from 2014 to 2015. He also worked for National Grid electricity transmission owner (ET) as a system desgin enineerer from 2016 to 2018. Then he joined Burns & McDonell T&D as a power system consultant working mainly on smart energy solotions from 2018 to 2019.
His passion is to share his industrial experience with PETER project and become an electromagnetic expert.