PETER Recruitment Event took place at Crowne Plaza, Bruges on May 14-15 2019.
On May 14th, all beneficiaries of the MSCA ETN PETER Project came together at Crowne Plaza in Bruges. The European Projects Advisor at LRD department of KU Leuven gave a presentation on the Project Execution, Budget Rules and the Consortium Agreement according to the H2020 Programme rules and regulations. This was followed by an intense training by the KU Leuven HR Department on how to succesfully do panel interviews so that each beneficiary was completely ready to interview all preselected candidates.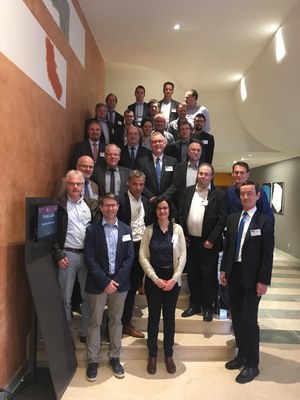 On May 15th, the actual interviews with the preselected candidates took place at Crowne Plaza. From an initial list of >100 eligible PETER-candidates, 24 were preselected to be further interviewed by the Recruiting Committee at this Recruitment Event. All preselected candidates presented themselves, their background and their motivation to assess their suitability for the ESR position they applied for. Eventually, 13 out of the 24 candidates were selected to fill in 13 PETER ESR positions while a decentralized procedure will be followed for the remaining 2 ESR positions. The selected ESRs will start their research in the coming months. The Recruitment Event has been followed by the Pre-Kick-Off Meeting which consisted of an informative session given by the General Coordinator on the implementation of the PETER project, focusing on the 'start-up', the 'planning' and the 'next steps' to the official PETER Kick-Off Event in November 2019.