Among several things during the interview discussion, I can still remember Prof. Heyno Garbe reminding me that doctoral work is doing …
Hello everyone, I am Lokesh Devaraj, writing this blog on a Sunday evening around 7:30 PM. During weekdays, I do my regular research as a PhD student at HORIBA MIRA, an automotive engineering consultancy, where I have been working for the past 20 months developing models for predicting risks associated to functional safety hazards. Fortunately, I do not work for the weather channel, because currently where I live, a day doesn't pass without me wondering how often the weather keeps changing. Yes, I live in England, and it is raining ALWAYS!!! See the image of the rainy clouds during summer, taken from my balcony as proof (image 1, left) . Oh yes, I enjoy nice sunset views when it is not raining (image 1, right).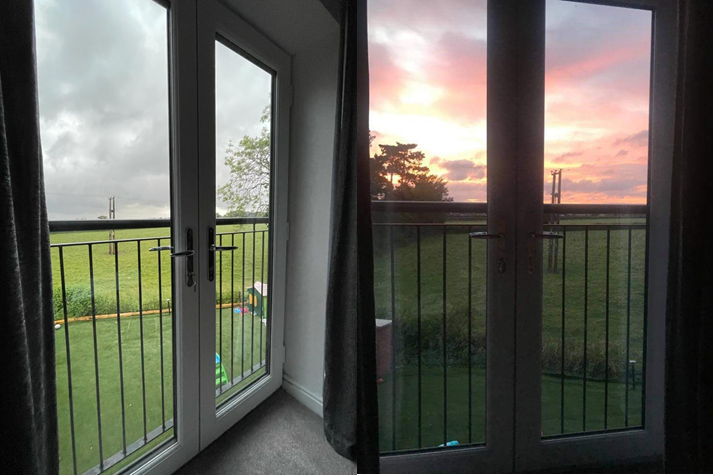 Image 1. Random pictures of my balcony, to complaint about the weather (left) and to appreciate the views during sunset (right).
My Interview for the PhD position
I had my first round of interview for the current PhD position, when I was doing my internship slash master thesis in the Netherlands, Dr. Alastair Ruddle, my supervisor at MIRA interviewed me for the PhD position I currently hold. I have to admit, at the end of my interview, of all the other things it felt actually nice to being interviewed by a person with a British accent. Following my first interview (via skype), I had to attend a second and final round of interview, but this time with a panel of around seven people including Alastair as my interviewers. The decision was quick (2 days) and I got the good news that I was selected for the PhD position. Among several things during the interview discussion, I can still remember Prof. Heyno Garbe reminding me that doctoral work is doing independent research, and PhD supervisors unlike during the master's or bachelor's degree will not set objectives (which is one of the most vital skill set I have been developing during my PhD).
I also recall me saying to the interview panel that I did not want to think of work when I leave the office. A swift response I received from one of the panelists was "We do too!". Now I can say that, it is impossible to forget work at home, especially with so many unsolved research problems (they never cease to exist), which I love to solve.
Arrival to UK
After successful completion of my master's degree and a long break of 3 months with my family back in India, I flew to London Heathrow airport on Oct. 31st, 2019. From that day till this point, I am very glad of three things, first: people in England speak English (I will keep the story of trying to talk in German to cancel a sim card contract for another day), second: cars have steering on right (left drive). And third, CRICKET !
Expectations as PETER ESR
My expectations for the time I spent as a PhD student were straightforward: learning new things, writing papers, travelling the world for attending conferences, performing experiments or simulations etc., which any PhD student would and should expect. However, the PETER project proposal was a bit special, according to which each early-stage researcher should spend at least 6 months of his/her research period on secondments, hosted by three institutions within the PETER consortium; each supposed to be situated in a different country. Secondments funded by the EU serve multi-purpose objectives like, facilitating researchers to work in new environment than usual (university students hosted by industry and vice versa), help achieve new skill sets, new supervision, exposure to additional facilities etc. According to the proposal, my secondments as ESR 03 was planned to be at University of Leibniz (Germany), Nedap (Netherlands) and Valeo (France). I saw this as an opportunity to travel new places and to extend my network by meeting experts from various domains. Moreover, we all know what hit us in March 2020 . Two of my three secondments have been converted virtual due to travel restrictions and my only remaining hope is to attend a physical secondment at Valeo, France in 2022.
Living the Dream?
For a long time now, I have been working alone in a small conference room to avoid any close contact of less than 2m with colleagues working on site (at least I have a separate room all to myself ). The research I have been doing have clear objectives to be met and I have published a few technical papers to discuss my work and findings. Quite happy with work! Despite not being able to travel to places, I have managed to visit a few places within UK. Some of the places I visited are very beautiful. I have shared the pictures I took for the reader to appreciate the views.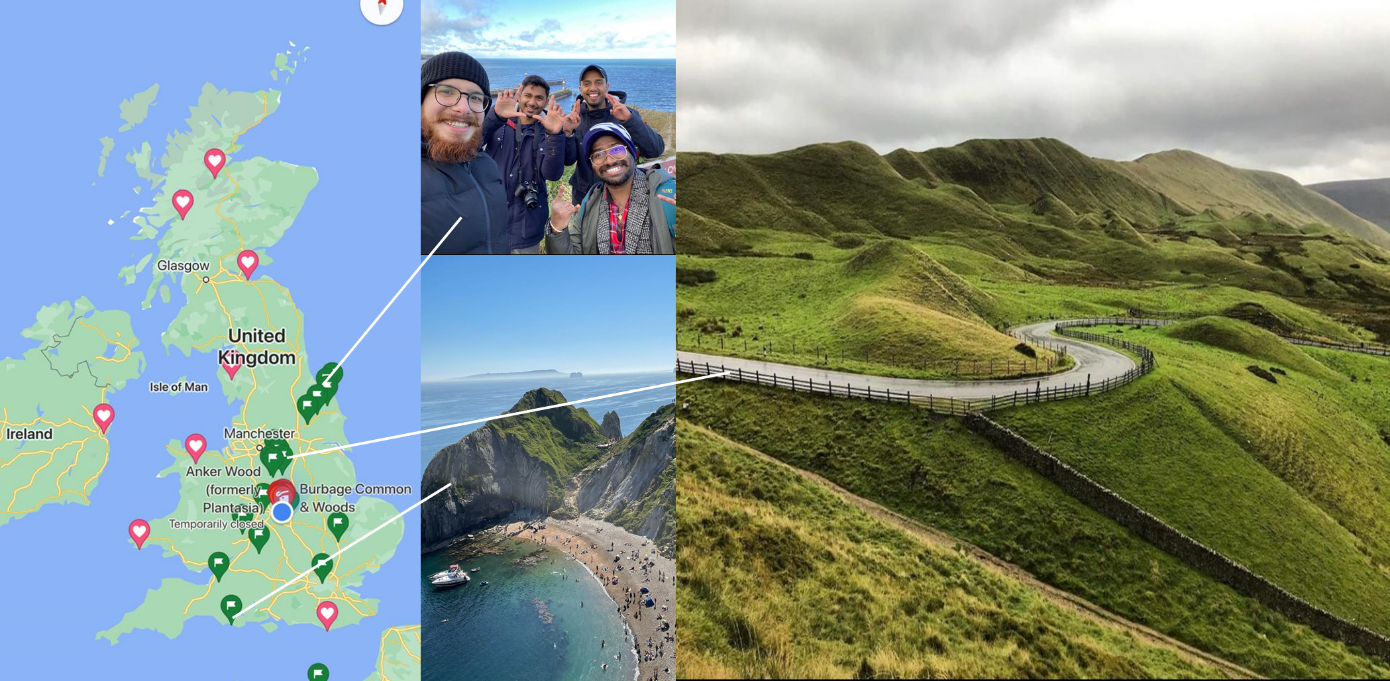 Image 2. Places I visited (marked in green) and yet to be visited (marked in red) in UK.
Am I living the dream? Not a total YES due to the current pandemic! But I guess this situation has affected everyone's lives, some to a considerable extent than others. Luckily, I am able to continue my research without any problems, plus do some travelling within UK. Nevertheless, I hope we return to our normal way of living very soon.
I would like to thank the European Union for giving me this opportunity and for funding for my research and living expenses under the MSCA grant.
About the Author: Lokesh Devaraj
---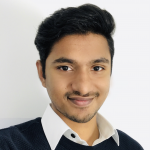 Lokesh Devaraj is currently living in a small town of UK called Nuneaton. He comes from a city called Chennai, located along the south east coast of India (population fact: Austria, a country around 200 times larger than Chennai by area, has only 84% of Chennai's population!). He obtained his Master's degree in Advanced Optical Technologies at Friedrich–Alexander University Erlangen–Nürnberg. Besides academics, he was also involved in performing optical computations and laboratory experiments at various research institutes namely Fraunhofer IISB, ASML and AOTTP. In year 2017, Lokesh completed his Bachelor's degree in the major Electronics and Communication Engineering at RMKCET, Tamil Nadu, India.