An early stage researcher's view on the PETER NWE 2.
It has been almost one year since PETER's first Network Wide Event (NWE1): time really flies! In such a warm spring, we ushered in our NWE2. Although Covid-19 led this grand event to a virtual one, our great enthusiasm breaks the "dark clouds" of Covid-19 like sunshine. From April 12th to April 16th, various interesting trainings, presentations, discussions as well as games were held which made this event quite attractive and a big success! Let me show you how our NWE2 was.
Day 0 (April 10)
Although the official starting date of NWE2 is April 12th, it actually has started the moment we received the "mystery box" from the Netherlands. Objectively, the box is not expensive in terms of price. However, it's valuable to us since they contain not only the Dutch specialty snacks, but also the organizers' efforts and wishes. Thanks! (It's worth mentioning that the taste of "KLENE MUNTDROP" is so unique that it impressed most ESRs and resulted in an interesting discussion:) )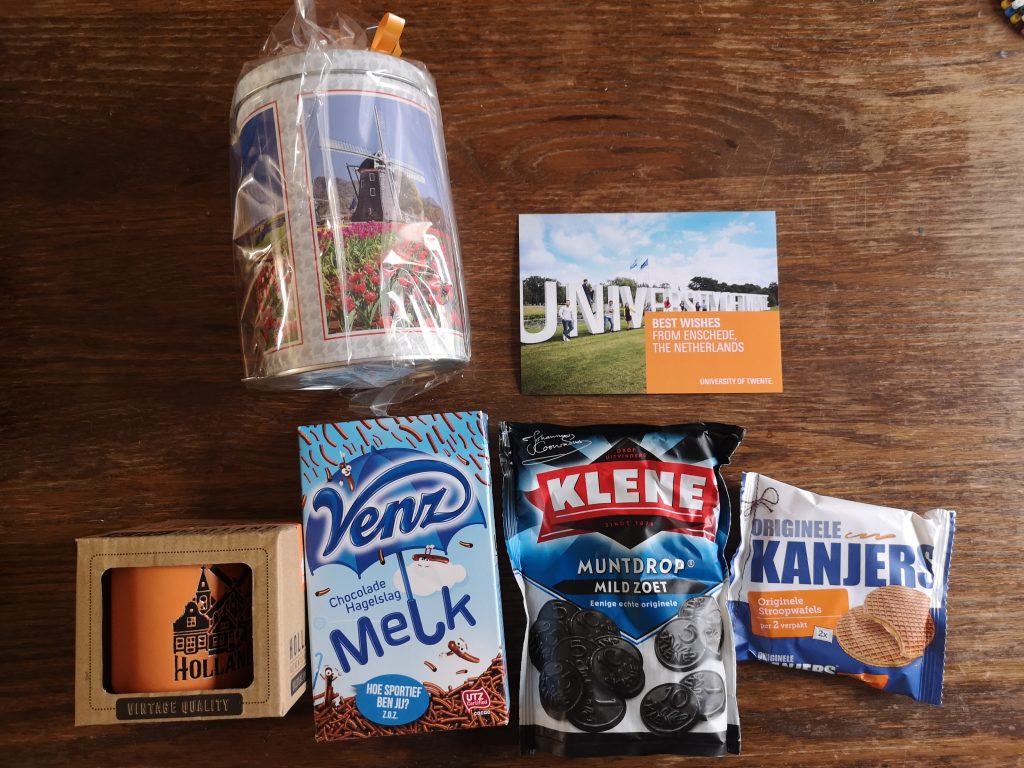 Figure 1. PETER NWE2 Mystery box.
Day 1 (April 12)
The official agenda started in the afternoon of April 12th with the warm welcome by our project manager, S. Stroobant. After that, all the ESRs gathered together to discuss about the issues that we ESRs encountered, such as mental health under limited social contact, impact on research due to delayed secondments and so on. Next was a joint scientific/technical training of "Risk-Based EMC versus EM Resilience" which clearly indicated important concepts and made the big picture of PETER clearer. In the evening, we ESRs enjoyed our online social activity 1 "Shellshock" which was really fun.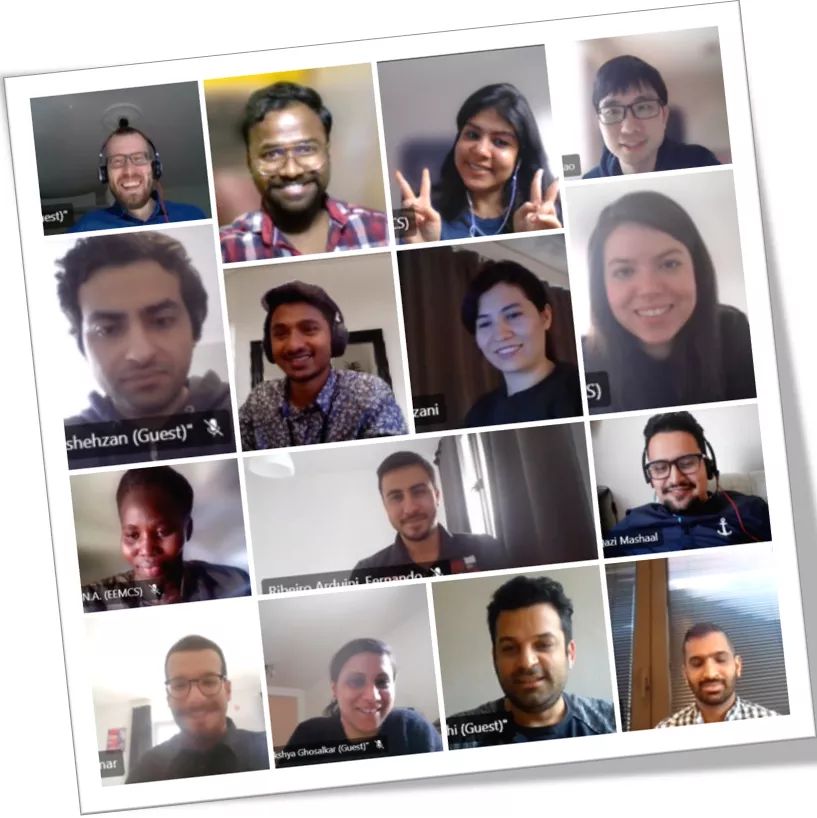 Figure 2 . ESRs family selfie.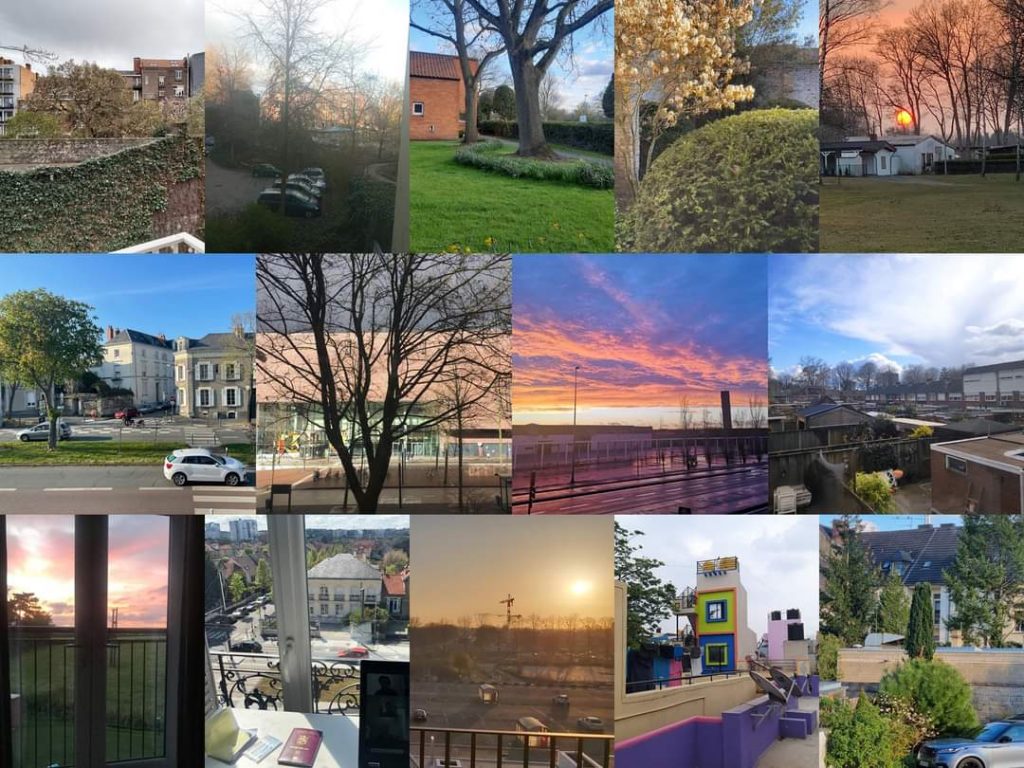 Figure 3. ESRs living environment.
Day 2 (April 13)
As we know, to conduct a good research, besides a solid academic background, we also need many kinds of soft skills to escort our work and that's the significance of the second day. Generally, the second day of NWE2 is relatively short but full of essential soft-skill trainings. During these trainings, we first learned how to make a "win-winnovation" during our teamwork which is of utterly importance nowadays. In addition, since papers are to researchers what fruits/crops are to farmers, the importance of the training "How to get your paper published" is self-evident. Last but not the least, time is fair to us all since all people have exact the same amount of time each day, but why can some people always do more work than others in one day's time? Why are many people so busy but no results? Probably you can find goods answers and solutions in the "Time management" training given by Carl Pullein.
Day 3 & 4 (April 14 – 15)
While the first two days targeted to a general audience, Day 3 and 4 dive deeper in the real technical content of our PETER project. During these two days, all ESRs presented their work in the form of pre-recorded presentation, including both research progress and other related business. After each group presentation (3 or 4 ESRs), there was a Q&A session during which all the PETER members can ask questions. From my own point of view, on one hand, these two days are the most stressful ones since we need to face questions and challenges from experts with so much experience, but on the other hand, these questions and challenges also inspire us and stimulate our critical thinking, which is beneficial to our research.
After almost two full days' continuous ESR presentations, a joint talk by MST and UTWente on "EMC in hospitals" was given. No matter how good we think of our research, if ignoring the reality, its value would be limited. Fortunately, this talk provided us with a case in real life, which brought us a better understanding of the essence of our work from the perspective of reality.
In addition to ESR presentations and the joint talk, parallel sessions of each working package were also held on day 4, during which ESRs and their supervisors reported the relevant progress and plans for future work.
In the end of day 3, ESRs held their second social activity and in the end of day 4, conclusions of this NWE2 and next steps of PETER were discussed and drawn.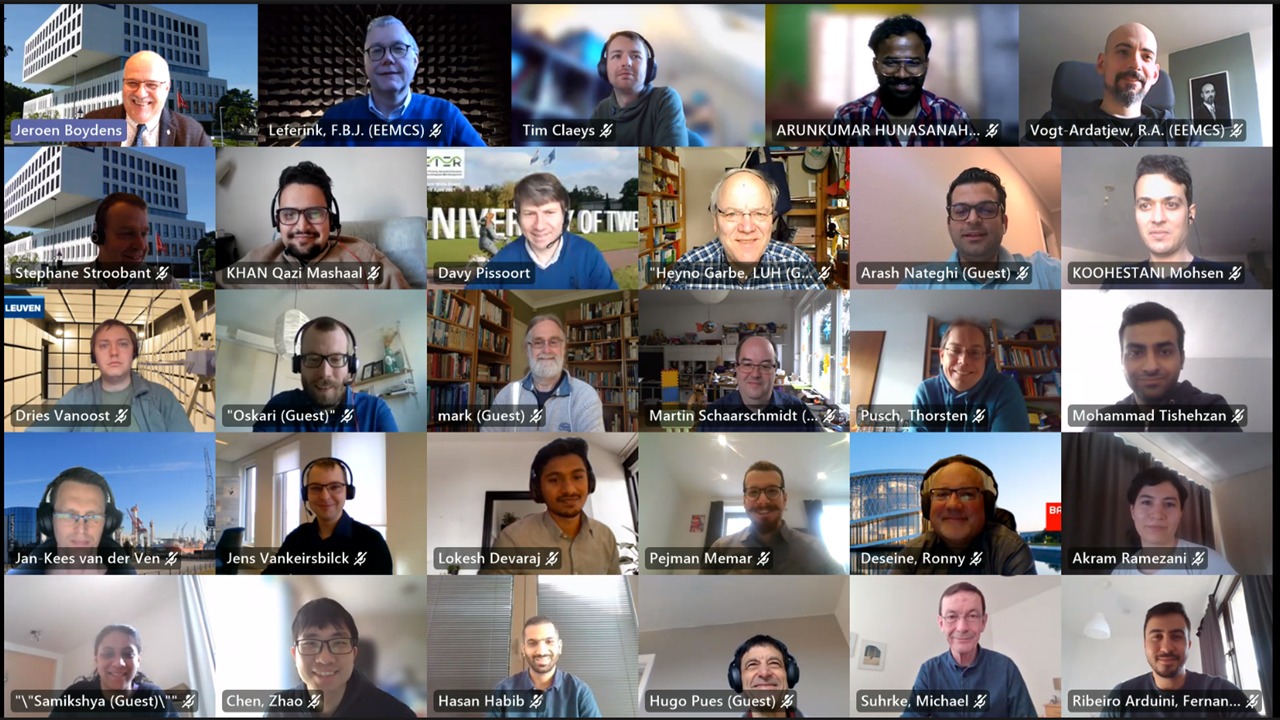 Figure 4. PETER NWE2 participants.
Day 5 (April 16)
The final day of NWE2 was more relaxed and shorter comparing with the previous days. It began with a scientific/technical training "Technologies exploiting new spatial and spectral dimensions for new applications in 5G networks, and beyond" which introduced us the current situation of 5G work in the world.
It is worth noting that there was a special "PETER Problem Solving Session" arranged in this NWE2 which is quite interesting and attractive. All ESRs were pre-divided into three groups with three separate topics (EMC standards, EMC Risk Assessment Impossible, Forget Rule-based approach). During this session, each group shared their opinions to the public and then discussed with all the audience. To my surprise, this session attracted more than 50 people from different institutions and countries, with whom we had a quite active discussion. The scheduled one hour and a half duration for this session was obviously far from enough, I'm sure that if time permitted, we could even have discussed until our bedtime!
In the afternoon, ESRs had a meeting with our PETER project and communication managers regarding the administration stuff, like dissemination, paper submission procedures, what can be improved regarding NWE. Although these contents were not technical, they were essential to ensure the smooth progress of our PETER project.

Figure 5. ESRs, PM, CM, S/T coordinator closing session.
So far, you've got most of the content of the PETER NWE2. But as an ESR, I still would like to ask your attention on our very final program: ESR social activity III. This activity is only for ESRs and thus may be neglected by most PETER members, but it actually means a lot. Thanks to our two excellent ESRs' efforts and organizations, we had 71 interesting questions in our Kahoot quiz, which are related to the PETER project, the ESRs as well as to some common sense. After this fun and exciting quiz, we held an impromptu online concert/party. Via Teams, we shared and enjoyed each ESR's favorite music and also planned some offline activities (e.g., go camping and barbecue together when possible). By doing this, we're able to better integrate into our big PETER family!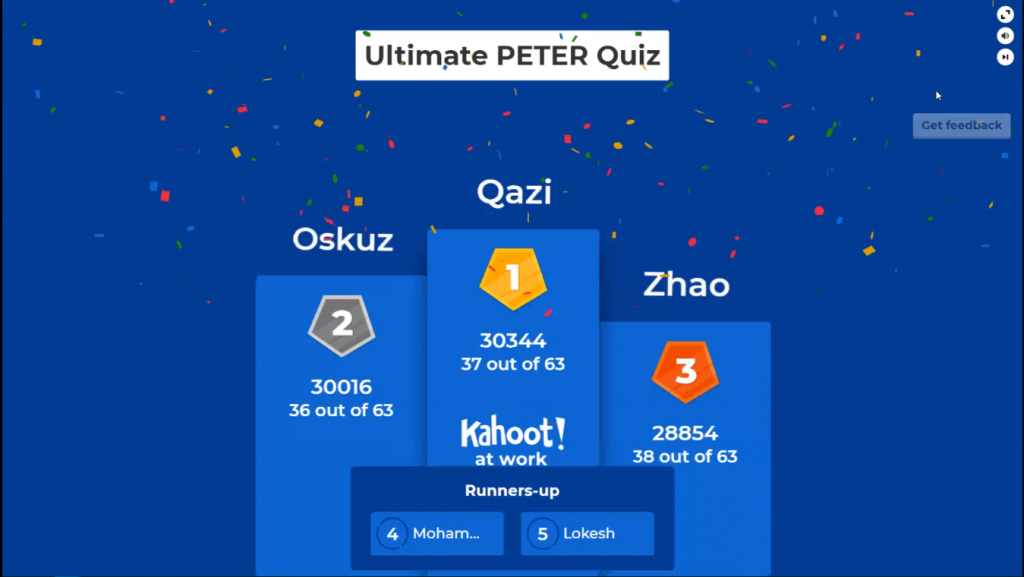 Figure 6. ESR social activity III.
Acknowledgement and Outlook
In the very end of this blog, I would like to sincerely express my appreciation to all organizers, the management team members as well as our supervisors. Thank you for all your great efforts which bring us such an enjoyable event.
NWE2 ended, but our passions didn't!
We all look forward to meeting everyone physically in NWE3 in the UK.
See you all there and good luck to everyone!
About the Author: Zhao Chen
---

Zhao Chen is an Early Stage Researcher, affiliated with the Healthcare R&D department at Barco NV. As ESR12, he will focus on EMI-Resilient Medical Display systems for Surgical- and Diagnostic Imaging and Modality Applications. His ultimate objectives are to complete and optimize the existing rule-based Design-for-EMC process with/for IEC 60601-1-2:2014, to specify test-cases that are based on different types and use cases of displays and display systems for medical application and to apply and assess the novel EM-risk analysis methodology on the test-cases.