Teleworking and virtual secondments as adapted by MSCA-ETN PETER project, has enabled secondment activities for continued work progress.
Generally, according to the PETER Project, secondments are supposed to take place in a different institution than the host institution. However, since the start of the pandemic, most of these secondment have not been possible to be carried out physically. Like most companies and universities where teleworking is encouraged due to covid 19 restrictions, Secondments have also become a virtual thing.
Having a secondment during the time of pandemic is not as similar as having a normal secondment. It however still provides the greatest opportunity to have the experience of doing measurements and interacting with people who are more experienced in carrying out those measurements.

Figure 1: A photo taken while doing measurements in the anechoic chamber at Thales Netherlands, during the secondment.
My secondment took place in Thales Netherlands, where I did measurements related to the converter EMC performance. Even though part of this was virtual, in the sense that I gathered the information and literature related to the planned measurement while teleworking in my room, Thales was kind enough to invite me amidst the restriction of covid-19 to do the measurement in their labs.
This adaptation to the way of working, teleworking, has ensured continued work progress amidst the pandemic. Similarly, the virtual Secondments as adapted by the MSCA-ETN PETER project, has enabled some of the secondment activities to continue taking place.
I look forward to continued interaction and collaboration with the different industries virtually, and physically when that is possible, to meet the objectives of the project.
About the Author: Nancy Omollo
---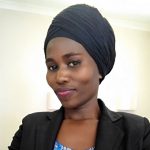 Nancy Omollo obtained her bachelor's degree in Electrical and Electronics Engineering, from Technical University of Kenya in 2014. She also holds a master's degree in the same field, from Stellenbosch University, where she focused on the investigation of shielding effectiveness of materials using a reverberation chamber, both in frequency and time domain.